Artist and Author, Mary Montague Sikes
For as long as she remembers, Mary Montague Sikes has been both an artist and an author. As a child, she usually had a scrap of paper and a pencil nearby so she could draw and write a little note about her picture. As an author, she's been most satisfied when she could create the art that appears on her covers. For many of Sikes' books, her publisher has used one of her paintings as the basis for the cover. For Jungle Jeopardy, since she no longer owns the painting on the cover, Sikes created two new paintings, one of a jungle parrot and one of a black jaguar from the story. She takes these paintings with her to book signings.
What kinds of stories do you like best?
Although I enjoy romance, I also like stories with mystery and adventure and stories with exotic destinations. My publisher created the "Passenger to Paradise" series for those books.
Do you use the same protagonist in each book?
No. Each book has a different protagonist—except for Secrets by the Sea and Jungle Jeopardy. Those books have the same protagonist and other characters. In Jungle Jeopardy I fell in love with Tyler who was supposed to be my villain but turned out to be a good guy instead. That was not my intention at the outset. That's the way characters take over and lead the story in an unexpected direction.
The main element that ties the "Passenger to Paradise" books together is the exotic setting each book has. As I mentioned earlier, Secrets by the Sea is set in Antigua. The sequel, Jungle Jeopardy, starts out in Antigua then goes to Costa Rica and on to Nicaragua and Guatemala.
How did the story of Jungle Jeopardy come about?
My latest book in the "Passenger to Paradise" series grew out of my fascination with jungles. An artist as well as a writer, several years ago I created a series of large, jungle-related paintings. "Jungle Beat" on the cover of
my novel
is a painting from that series of work.
An adventure story,
Jungle Jeopardy
is set in
Central America
where a multitude of Maya ruins remain hidden beneath giant overgrowths of jungle foliage. An unplanned trip to the ruins uncovered at Palenque in southern Mexico inspired part of the story. While vacationing in Huatulco on the Pacific coast of Mexico, my husband and I and a friend chartered a small airplane to fly into a grass air field located near the Palenque ruins two flight hours away. Climbing among the rocky remains and entering the ancient buildings once hidden by the jungle, I gazed across the wild dense tropical rain forests of Guatemala and wondered about the lost history of the ruins. While there I took dozens of photographs and turned many of them into a series of large Maya ruins paintings.
Later, I researched the Maya and was shocked to learn that although the Guatemalan Highlands were home to the Maya from pre-classic times, little is known today about their culture because books and records of their civilization were destroyed by the Spanish conquerors. I also found out that of the more than 100 archeological sites in Guatemala, only a few have been uncovered. That started me thinking about "what if" Dana, my heroine from Secrets by the Sea, and Clifton, the hero from that book, wound up in Central America and found several of those lost ruins. The resulting story is a quest to uncover a treasure with some "Indiana Jones" type exploits cover along the way.
What's next in the "Passenger to Paradise" series?
Probably I will finish up a book I've started that's set in the Bahamas. It's called Necklace in the Rain. The artist in me is already dreaming about the cover art!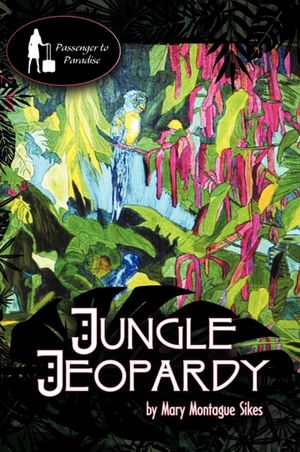 Descriptive Blurb: When Dana Sinclair realizes Clifton Wilder is missing, she takes off for Costa Rica to search for him. An apparent kidnapping turns into a jungle adventure that leads Dana and Clifton into the wilds of Guatemala where they discover an unexplored Maya cave and find pottery and walls covered with glyphs. Tyler Hunter wants to save Dana's sister, Rebecca, from prison, and to do so, he needs for them to find her grandfather's hidden treasure. An archaeologist on sabbatical in the Caribbean, Tyler intrigues Dana with his knowledge of the Maya. Clifton grows jealous of the friendship that creates tension in the group of four which includes Tyler's sidekick, Mick. Dana has never doubted her sister's guilt in the murder of their grandfather on the island of Antigua, but now an element of uncertainty creeps in. Will they escape from the drug lords who are looking for Americans in the jungle? What is the meaning of the black jaguar that follows them night and day?
______________________